Client: DVG Interactive / Microsoft Consulting Services / Publicis Groupe
Project Term: November, 2018 – January, 2019
Services Provided: Feature Implementation from Existing Designs
Target Platforms: Android, iOS
Technologies Used: Xamarin.Forms v3.4, Prism.Forms v7.1

---
Tommy and I worked together on a challenging Xamarin Forms based application that had many difficult requirements that really made you have to dig deep to find solutions. Tommy was able to do that and come up with solid implementations that met the needs, and were well built for the future. I was quite happy to have Tommy on the team, without him we wouldn't have delivered near as much as we were able to.
Lee Parrish
Principal Consultant, Microsoft
---
DVG Interactive is a strategic partner with Microsoft. Founded in 2002, DVG develops intuitive web and mobile applications that solve specific business problems.
Microsoft Consulting Services (MCS) is part of the Microsoft Services organization, which includes Strategy and IT Planning Services, Consulting Services, Premier Support and Customer Service and Support.
MCS's client, Publicis Groupe, is a global leader in marketing, communication, and digital transformation, driven through the alchemy of creativity and technology.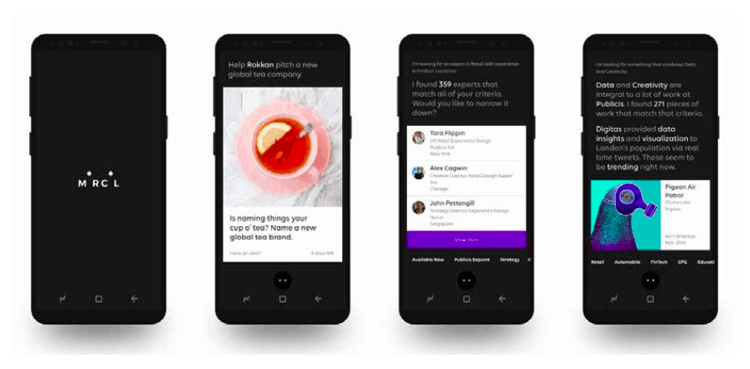 I was part of a small team responsible for implementing features that played a prominent role in the app's 1.0 release. I personally worked on a Xamarin.Forms based video player component for the Android and iOS platforms. It contained features comparable to those seen in the YouTube mobile app, including seamless switching between windowed and full-screen playback by either rotating the device or tapping an on-screen button, fully customized transport controls, and pausing playback when scrolling the player off-screen while viewing in windowed mode.
App Description
Arthur Sadoun, Chairman & CEO of Publicis Groupe, describes Marcel as an "…AI-powered innovation that will accelerate transforming the organization from a holding company to a platform, creating the first truly borderless, frictionless enterprise workforce, comprised of 80,000 employees worldwide, and usher in a new era of creativity and innovation."
Satya Nadella, CEO of Microsoft, stated "Artificial intelligence is one of the most transformative technologies of our time, and its power lies primarily in its ability to increase human ingenuity. That's the beauty of Marcel. At Microsoft, we believe that employees will not only work for their business but also evolve in a company that will serve them. Marcel embodies this ambition."