Welcome to part 1 of my "Making Apple TV Apps" series! I think its a good idea to understand what the device is capable of from a performance standpoint, so we're going to start the series with a look at the new Apple TV's capabilities on the hardware side.
Apple released their fourth generation Apple TV on October 30th, 2015. This was the first major update to the platform in five years, since the second generation version was introduced in 2010. The original third generation and its subsequent "Rev A" release were considered minor revisions when they were released in March, 2012 and January, 2013, respectively.
Technology changes at a breakneck pace, and the Apple TV is no exception. The latest Apple TV offers substantial, even exponential, improvements when compared to the previous iteration in almost every way. The following table offers a quick comparison of specs between the two models.
4th Generation Apple TV
3rd Generation "Rev A" Apple TV
Siri Remote (accelerometer, gyroscope, touchpad, dual mics, rechargeable via included lightning cable)
Apple Standard Remote
32 or 64 GB storage
2 GB RAM
2014 64-bit A8 CPU (first seen in iPhone 6)
8 GB storage
512 MB RAM
2011 32-bit A5 CPU (first seen in iPad 2)
 Up to 1080P video at 60 fps
7.1 surround sound (no optical output)
HDMI 1.43, Ethernet/Wi-Fi, USB-C
Up to 1080P video at 30 fps
5.1 surround sound (with optical output)
HDMI, Ethernet/Wi-Fi, Micro-USB
Comparing the Remotes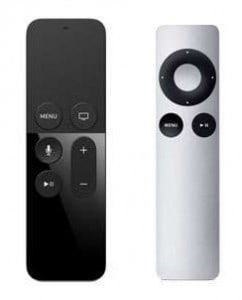 The new Siri remote is arguably the biggest hardware change between the new Apple TV and its predecessors. Taking cues from the Nintendo Wii gaming console, users can now turn, tilt and rotate the Siri remote to interact with the device in ways never before possible. With Siri joining the mix, users can also discover content as easily as saying "show me some Bruce Willis action movies".
Despite all the advances, some users have voiced frustration with the touchpad after accidentally brushing across it while picking up the remote. Doing so can result in the video playback position being suddenly rewound or advanced. Anyone that falls into this camp will be happy to hear that the new Apple TV supports both the new and old remotes.
The new Apple TV also supports bluetooth game controllers. However, Apple requires all apps to be fully functional with the Siri remote. In other words, game controllers are an optional enhancement, not a required accessory, in the Apple TV world.
Storage and Processing Power
With up to 8 times the storage space and 4 times the working memory, there really is no comparison between the two models. Likewise, the performance jump from the 32-bit, single core A5 processor to the 64-bit, dual core A8 processor is substantial.
Such a significant increase in these areas is a crucial requirement for what Apple CEO Tim Cook calls "the future of TV"—apps. I can't imagine the games, entertainment and productivity apps that are now filling the Apple TV app store being even remotely possible with the previous generation of the Apple TV.
Still, the new Apple TV's A8 processor isn't Apple's latest and greatest workhorse. The A9, first seen in the iPhone 6S, along with the A9X in the iPad Pro, point the way to an obvious Apple TV upgrade in our future. This is especially true when we consider the absence of 4K UHD video support in this model. But I'm getting ahead of myself…
Audiovisual Output
AV support is the one area that didn't see much improvement over previous models. In one case, the new model actually lacks a long-standing feature that has been available on every previous version of the Apple TV.
Apple delivered the bare minimum improvement needed in the new Apple TV's video output capabilities. Despite both Roku and Amazon offering competing models with UHD 4K support, Apple stuck with 1080P as the maximum supported video resolution. The only change seen in video output is a doubling of the maximum refresh rate from 30 to 60 frames per second.
This increase in refresh rate doesn't do much for video playback, except maybe in the case of sporting events. Television shows are produced at either 30 or 24 fps, while movies are almost always produced at 24 fps. Only sporting events and other high motion sources are produced at 60 fps.
No, this improvement was clearly aimed at games. Even "arcade classics" like Donkey Kong and Pac-Man are displayed at 60 fps. Knowing that a lot of iOS developers would be anxious to port their existing iOS games to tvOS, Apple had to make this change.
On the audio side, the new Apple TV now supports Dolby Digital Plus 7.1 output (as opposed to Dolby Digital 5.1 in the previous model), but only through the HDMI output. Apple dropped the optical audio output from the new model. Fortunately, third-party adapters that split the HDMI AV output to separate HDMI and optical outputs can be purchased online for around $35 to $50 USD if you need an optical output to connect to your sound system.
Networking
Both models can connect to your network via either a wired ethernet connection or Wi-Fi. The new model now supports 802.11ac wireless connectivity, but thats about the only improvement. Both models offer 802.11a/b/g/n wireless support and 10/100 ethernet support.
One More Thing
Did I mention the new Apple TV has an APP STORE?!? 😃 The new Apple TV's USB-C port allows us to connect the device to our Mac computer and run or debug our apps on the device before submitting them to the App Store, just as we're used to doing with iPhones and iPads.
That does it for our look at the hardware changes. I hope you'll join me for part two of the series, when we look at the tvOS operating system features in detail.