With part 14 of my "Making Apple TV Apps" series, we've reached the end of our journey. However, I hope it is just the beginning of your tvOS journey. In today's series wrap up, I offer some resources to help you learn even more about making Apple TV apps.
Thanks For Reading Along
I hope you've enjoyed my series on making Apple TV apps and more importantly, that you feel like you're leaving it knowing more than when you arrived. I enjoyed writing the series, as I love working with the new Apple TV and tvOS.
I was fortunate to be a recipient of an Apple TV dev kit when they shipped last fall. It was a brave new (although not entirely unfamiliar) world to explore. I couldn't wait to try new things with it!
This slideshow requires JavaScript.
My Apple TV Devloper Kit
Its hard to believe that was only six or so months ago as of the time I'm writing this article. The amount of information available then paled in comparison to the resources that are available to us now. Here are some valuable resources to help you continue to master making Apple TV apps.
tvOS Apprentice by the Ray Wenderlich Team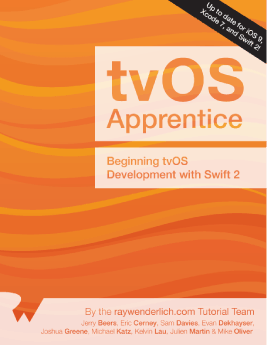 First up is the great tvOS Apprentice book from Ray Wenderlich and his team. This 538 page book is available in both hardcopy and digital formats, and was the source for the CloudDataStore.swift and DataController.js code samples I described in the previous article. tvOS Apprentice was released on February 15th, 2016, and the knowledge it contains was no doubt well-earned by all nine of the credited team members behind it. I spent a lot of hours experimenting to work out the things they walk you through step-by-step in this book. It is well worth your money if you're serious about developing tvOS apps. You'll also find discussion forums on the Ray Wenderlich site, including sections for general tvOS discussion and the tvOS Apprentice book.
Apple TV Tech Talk Session Videos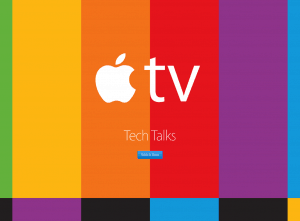 Another useful resource is a collection of Tech Talk videos that Apple has made available. Apple recorded 11 sessions from a one-day event held on the Apple campus. They not only cover a lot of the technical aspects of tvOS development that I've talked about in this series, but also design issues, performance tuning and even App Store distribution and marketing. Think of it as a mini WWDC focused on nothing but Apple TV apps!
Apple Developer Forums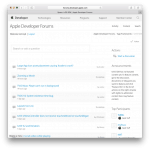 Of course, the Apple Developer forums are always a good place to look for answers to common issues and responses to issues from Apple staff members. Apple TV development is no exception. Apple has added discussion sections to their forums for both the tvOS SDK and the TVMLKit framework.
Me! (as in my consulting services)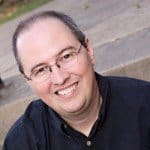 Finally, I am available and happy to help. I would love to consult with you on upcoming projects or become a member of your team. You're welcomed to learn more about me or reach out to me. I hope to hear from you soon!
More to Come
I plan to produce more in-depth series on developing apps for the Apple ecosystem with the Swift programming language. I hope you will also consider subscribing to my site.
Thanks again for stopping by. Come back soon!